This post was originaly publish as Fall Fruit Salad one of 14 foods that lowercholesterol on Laurel On Health Food Pomegranate Juice – a National Academy of Sciences study showed that pomegranate juice reduces cholesterol plaque buildup and increases nitric oxide production (nitric oxide helps reduce arterial plaque), making it a perfect cholesterol lowering food. It's also been shown to improve fertility. Try these recipes:
I made a big fruit salad to eat on all week. I tried to pick fruits that are in season right now and I think it came out really delicious. The organic apples were CRAZY good.
Fall Fruit Salad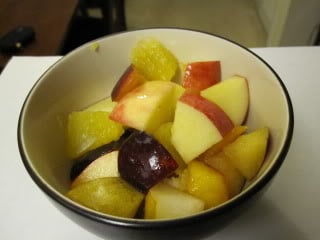 2 organic ambrosia apples
2 asian pears
2 nectarines
2 navel oranges
2 black plums
3/4 cup pomegrantate juice
Directions: Chop up the fruit into bite-size pieces and toss together in a bowl. Drizzle the pomegranate juice on top and stir to mix. Cover and store in the refrigerator.